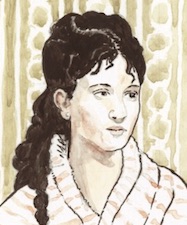 Today marks the 158th birthday of Mélanie Hélène Bonis (1858-1937) – though she is known most commonly as simply Mel Bonis.  A prolific French composer, Bonis worked in small and large forms composing works for orchestras, chamber ensembles, choir, organ, and choirs.  A handful of her 300+ compositions are available at the Petrucci Music Library.
Though she did not have the advantage of being born into a family in the upper classes, her talent at piano led her to formal education at the Paris Conservatory where she studied with Ernest Guiraud and César Franck.  Claude Debussy was among her classmates and her music, which was largely published during her lifetime, was praised by Camille Saint-Saëns.  Learn more about Bonis, and find several recordings of her works, at mel-bonis.com, a French website maintained by one of her descendants.
Here is her Sonata for Flute and Piano:
Download the January WPA Calendar to stay on top of birthdays of historic and contemporary women composers!