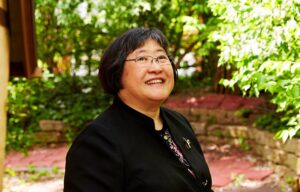 We've been celebrating Chen Yi as our Composer Of The Month!  Elizabeth de Brito commented on the lack of events celebrating Chen Yi's 70th birthday. This is true – but there are many events featuring Chen Yi and her music – just none that name and celebrate the auspicious occasion of her turning 70.  But here are some of the upcoming concerts and other events:
(1)   Chen Yi has a three-day residency at Fredonia State University New York, Feb. 2-4, 2023 (sponsored by The Sorel Charitable Organization, Inc.)    All events will be Livestreamed at : fredonia.edu/music/live
(2)   The New Music Festival at the University of Northern Iowa School of Music will feature Chen Yi in its concert on Saturday, Feb. 25 at 3 PM    Info about Livestream is here
(3)   The University of Illinois at Urbana-Champaign, Recital Hall, Smith Memorial Hall      Wenren: An Evening with the Music of Chen Yi   March 24, 2023, Fri., 7:30 PM    Performances by the Chamber Singers, instrumental soloists and chamber groups. The musicians will be joined by multimedia collaborators in visual arts and Dance.
(4)   Cleveland Institute of Music New Music Ensemble  April 16, Sunday. 4:00 pm  Concert will be Livestream!     Includes three works by guest composer Chen Yi:  Dark Mountains (2021); Qi (1997)  and Tibetan Tunes (2007)  
(5)   June 1 and 3, the New Jersey Symphony will feature the premiere of a new, commissioned work by Chen Yi!   Xian Zhang, conductor
(6)    Seattle Symphony will include a work by Chen Yi in its Family concert,  Dances Around The World,  Sat., June 10, 2023 @ 11:00am – 12:00pm (PDT).  Conductor Sunny Xia
Past event:  Here is a conversation with Chen Yi, filmed in Dec. 2017, at the Curtis Institute of Music. 
As we celebrate Chen Yi, be sure to let us know of upcoming concerts that we've missed — we can do an update in a few weeks!  [email protected]