Dr. Amy Zigler (a musicologist and pianist and serves as Associate Professor of Music at Salem College) recently wrote about attending a recording session in the U.K.  Today she has an update about a devastating piece of news from the British cultural landscape.
UPDATE:  Responding to public outcry, the BBC has cancelled its decision to cancel the BBC singers.  Read here in Variety.
On March 7, 2023, the BBC made an announcement of drastic changes to their classical music structures and programming. The most shocking was the announcement to close the BBC Singers after almost a century of world-class artistry.
This is devastating news for classical music in Britain and around the world. In January I had the honor of hearing this phenomenal group under the direction of conductor John Andrews during the recording of Ethel Smyth's second opera, Der Wald. They had one day, just a few hours really, to record the prologue and epilogue and a few scenes with the soloists; to say they were consummate professionals is an understatement. They presented a singular sound and expertly captured Smyth's vision of an eternal Forest and the mythical creatures that inhabit it. But the choir in Smyth's opera also acts as members of the village where the story takes place. In those scenes, they deftly handled the interactions with Röschen, the heroine, and later, with the Pedlar. Some of the scenes also called for choir members to step into minor roles, such as the 'Youth' who presents a gift to Röschen in Scene 2. Throughout that day I was blown away by this phenomenal group.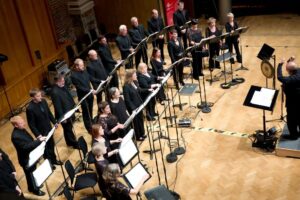 I should not have expected anything less. Over the decades the Singers have built a reputation as a superb ensemble. But they have also become known for their diverse programming and their championing of new music. In the 1920s and 30s, this included works by Holst and Britten, while more recent decades have featured Iannis Xenakis and Errollyn Wallen. They have a composer-in-association (currently Roderick Williams, OBE, taking the baton from none other than Judith Weir) and they frequently commission new works.  Composer Lucy Walker posted this on March 7,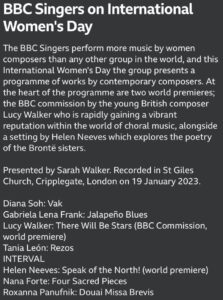 stating "I'm proud to be part of this celebration, especially in partnership with such a brilliant ensemble that champions and engages so proactively with female/marginalised composers."
They also partner with artists-in-association, such as South African cellist Abel Selaocoe and organist Anna Lapwood. As an arm of the BBC, they are constantly recording and performing, bringing their artistry to a wide international audience, not just an elite few. These efforts have been led in recent years by chief conductor Sofi Jeannin, principal guest conductor Bob Chilcott, and principal guest conductor Owain Park.
A cursory glance at headlines shows I am not alone in my shock and dismay. Petitions have been started, letters have been written, and public support has bombarded social media. One only hopes that those leading the BBC will realize the lapse in judgment and choose instead to keep and support the BBC Singers, in recognition of all that they contribute to the cultural life of Britain and the world.