Now that Labor Day, and the end of summer, has passed we are looking forward to the start of the 2017-18 concert season – and taking a critical look at what we can expect in the coming programming.
We at WPA have been looking at the repertoire of major ensembles for a long time, and are thankful that more attention is being paid to the statistics – in particular with the diligent work that had been done in recent years by the Baltimore Symphony Orchestra.  Though we don't have such an overreaching look as the work that was done at the BSO, we can offer some specifics about the representation of women composers.
The information compiled is representative of the top 21 orchestras in the United States* (the same group that the Baltimore Symphony data has examined).  We looked at all the available information for the coming seasons (available through press releases, season brochures, and events calendars on the ensemble websites) and only collected data from regularly scheduled concerts (not special events, "Family" concerts, chamber concerts, "Pops" concerts, etc.)
Of those 21 ensembles, seven (7) did not program any works by women composers: Atlanta, Cleveland, Dallas, Houston, National, St. Louis, and Utah).  Those that did program works by women only included one or two, with the standout being Milwaukee which programmed four (4).  But not all programming is equal – for example, while Minnesota does have two works by women programmed, they are included in their "Emerging Composer" concert, which is only performed once unlike most concerts in their season that are played multiple times over a weekend.
With all of this in mind, the breakdown for the 2017-2018 concert season looks like this:
A total of 224 composers will be represented, of which 21 are women (8.6%).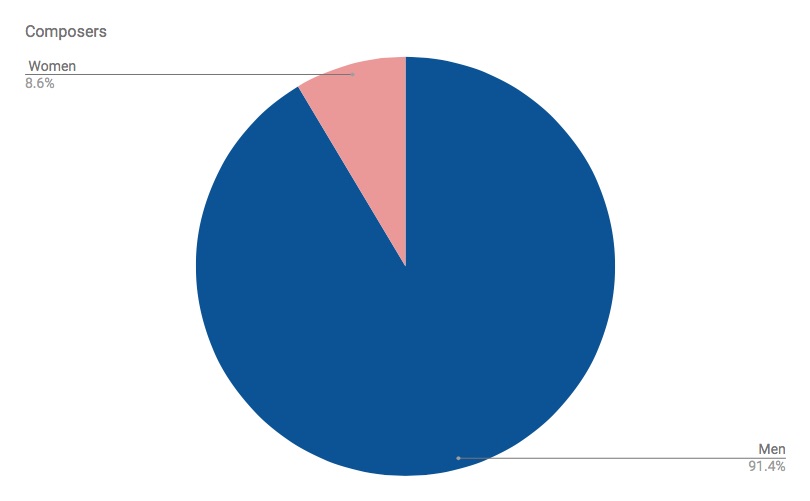 A total of 770 individual works will be heard, which include 24 pieces by women (3.1%).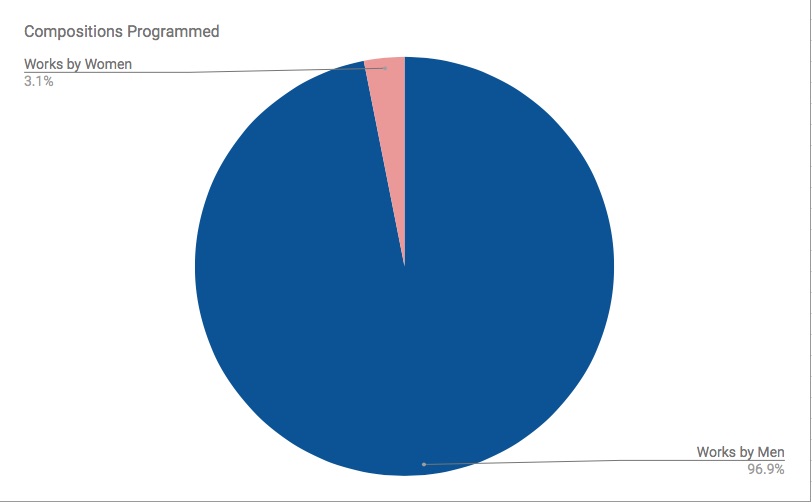 There are a total of 1,484 compositions programmed – which consists of the number of times the work was scheduled to be performed among various orchestras, not the number of performances each work will be heard.  (For example, ten ensembles have programmed Beethoven's Symphony No. 3, Eroica, but we didn't count all of the individual performances that might occur over the performance weekend, or include matinees, open rehearsals, etc.)  Of those programmed pieces, only 26 works were by women (1.8%).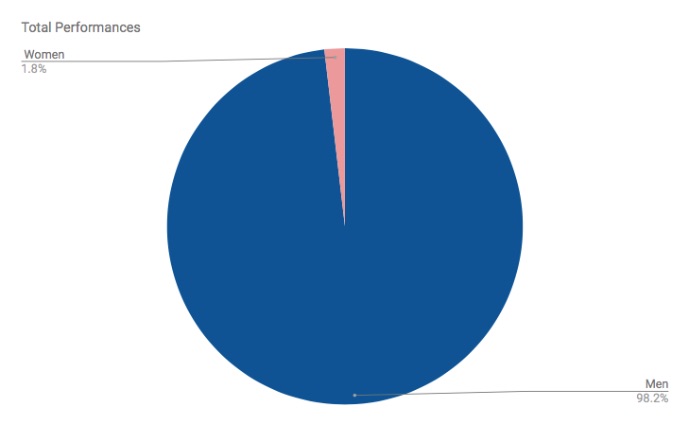 Compared to last year's numbers, this is actually a significant improvement – which only demonstrates how underrepresented women continue to be in concert halls.  The increase in the number of works by historic women is particularly encouraging.  Though we are always in support of new works by living composers, we are always delighted when works by women who are no longer around to advocate for themselves are included in programming.
Of the 21 women who will have works performed, five can be considered historic (composer born before 1950).  This is a huge improvement over the one work included among the same group of ensembles last season!
Even with all of this positive news, it is clear that the status quo is not even close to being disrupted.  Of those 1484 performances, works by Beethoven alone total 7%, and works by Bernstein, who is being celebrated this year in honor of his 100th birthday, total 5.7%.  Meanwhile, we are celebrating the life and music of Amy Beach – American's first woman to compose a symphony and have it performed by a major orchestra – for her 150th birthday, but her works have not been programmed in any ensemble, including in her hometown of Boston.
It is worth noting that even though these works are being performed, they are not necessarily being recognized or promoted.  There were disturbingly few mentions of works by women in the online or print descriptions of each concert, even when the included work was commissioned.  For example, the Seattle Symphony has included Lili Boulanger's D'un matin de printemps for a program titled Rachmaninov Symphony No. 3, taking place in February.  The other works on the program include Elgar's Violin Concerto and, of course, the Rachmaninov Symphony.  The description for the event, however, only mentions two of the three:
Rachmaninov's final symphony radiates a warm, nostalgic beauty rooted in the Russia of his early life. The virtuosic violinist Vilde Frang performs Elgar's emotional Violin Concerto, a work demanding extraordinary technical skills and physical and emotional stamina.
Later in the Seattle Symphony season they include the world premiere of a new work by Alexandra Gardner in an event, titled Wonderful Town and featuring the work of Leonard Bernstein.  Other works to be heard include Wonderful Town and Prelude, Fugue, and Riffs.  The description for the event makes no mention of the significance of the premiere, or even the composer at all:
Leonard Bernstein understood the pulse of American life like no other composer, and his sassy, energetic scores still get our blood pumping. The Seattle Symphony brings Bernstein's Broadway classic Wonderful Town to life with "Christopher Street," "A Little Bit in Love," "Ohio" and the "Conga!"
Seattle is not alone in this trend.  San Francisco Symphony includes Kaija Saariaho's Laterna Magica in an event on June 9, which also includes Tchaikovsky's Violin Concerto and Scriabin's The Poem of Ecstasy.  The event, titled Susanna Mälkki and Hilary Hahn, is described as:
Two superstars of classical music, violin virtuoso Hilary Hahn and conductor Susanna Mälkki, join forces to present Tchaikovsky's monumental Violin Concerto. Experience Mälkki's "charismatic and dynamic podium presence" (Chicago Classical Review) along with Hahn's "consistent perfection" (BBC Music Magazine) in a concert also featuring Scriabin's wonderfully mystical The Poem of Ecstasy.
Milwaukee Symphony includes Julia Perry's Study for Orchestra in a concert titled American Classics.  Other pieces on the program include Bernstein's Divertimento, Barber's Knoxville: Summer of 1915, and Copland's Symphony No. 3.  But the concert description can only mention three of the four:
Aaron Copland's stirring Third Symphony draws its majestic finale from his iconic Fanfare for the Common Man. Samuel Barber's nostalgic setting of James Agee's prose touches the heart. And Leonard Bernstein's Divertimento is a youthful romp. American Classics as only the Milwaukee Symphony can play them!
All of which only begs the question: why?  Or, rather, why not?  Why would the marketing for these concerts not highlight the inclusive programming – or, at very least, offer more information to the audience, and potential audience, as to who these unrecognized composers are?  Milwaukee's website, for example, only includes the composer's last name.  Only someone familiar with Perry's compositions would recognize that the Study for Orchestra is her work.  The same can be said with the promotion for Los Angeles Philharmonic's performance of Grażyna Bacewicz's Overture; the composer is just listed as Bacewicz. 
Perhaps the marketing teams are hesitant to ruffle feathers from those donors and patrons who don't wish to see a change in their beloved institutions.  But not promoting these innovations is a detriment to the ensemble, and the potential concert revenue.  As industry professionals continue to discuss how to bring new faces, and new dollars, into symphony spaces, one would think that highlighting the unique and visionary qualities of the event would be an advantage.
One would imagine that the marketing for such events would follow in the footsteps of what Baltimore Symphony has done in the concert titled Pictures at an Exhibition (February 16,17, & 18) featuring Florence Price's Dances in the Canebrakes, Prokofiev's Piano Concerto No. 3 in C Major, and Mussorgsky/Ravel Pictures at an Exhibition: 
There are few pieces of music as visually evocative as Mussorgsky's Pictures at an Exhibition. Written in memory of artist Viktor Hartmann, the piece is a musical depiction of an art exhibition. Composer Florence Price was the first African American female recognized as a symphonic composer and the first to have a work premiered by a major symphony orchestra. Witness Joyce Yang push the piano to its limits with her performance of Prokofiev's colorful Piano Concerto No. 3.
There is much to be done – but there are also many opportunities for ensembles to learn about works by women composers, and to even win funding to perform their repertoire in the coming seasons.  WPA Performance Grant applications for the Fall 2017 cycle are due on October 20, and there are many repertoire suggestions of under performed works deserving attention.
See more of who is playing what this season below – and have a listen to our Spotify Playlist that includes several of the works we can anticipate in the coming months:
Baltimore Symphony Orchestra: Florence Price, Dances in the Canebrakes (February 16, 17, 18) and Anna Clyne, Abstractions (February 22, 25).
Boston Symphony Orchestra: Arlene Sierra, Moler (October 5, 6, 7).
Chicago Symphony Orchestra: Elizabeth Ogonek, All These Lighted Things [World Premiere, CSO Commission] (September 28, 29, October 1), and Jennifer Higdon, Low Brass Concerto [World Premiere, CSO co-commission] (Feb 1, 2, 3).
Cincinnati Symphony Orchestra: Julia Adolphe, new work [World Premiere, Commission] (November 4, 5), and Emily Cooley, new work [World Premiere] (November 24, 25).
Detroit Symphony Orchestra: Roshanne Etezady, new work [World Premiere] (May 25, 26, 27).
Los Angeles Philharmonic: Chen Yi, Ge Zu (Antiphony) (December 8, 9, 10), and Grażyna Bacewicz, Overture (March 29, 30, 31).
Milwaukee Symphony Orchestra: Julia Perry, Study for Orchestra (January 20, 21), Emily Cooley, Green Go to Me (March 9, 10), Augusta Read Thomas, Radiant Circles (May 19, 20), and Joan Tower, Fanfare for the Uncommon Woman (June 15, 16, 17).
Minnesota Orchestra: Hilary Purrington, Likely Pictures in Haphazard Sky (November 10), and Nina Young, Agnosco Veteris (November 10).
New York Philharmonic: Anna Thorvaldsdottir, new work [World Premiere] (April 4, 5, 6)
Philadelphia Orchestra: Jennifer Higdon, On a Wire for Six Soloists and Orchestra (October 19, 20, 21) and Concerto for Low Brass (February 22, 23, 24).
Pittsburg Symphony Orchestra: Teresa Carreño, Margariteña (January 26, 27, 28), and Jennifer Higdon, Tuba Concerto [World Premiere, PSO co-commission] (March 16, 17, 18). 
San Diego Symphony: Grażyna Bacewicz, Overture (December 1, 2) and Missy Mazzolli, River Rouge Transfiguration (January 26, 28).
San Francisco Symphony: Kaija Saariaho, Laterna Magica (June 7, 8, 9).
Seattle Symphony Orchestra: Lili Boulanger, D'un matin de printemps (February 1, 2, 3), and Alexandra Gardner, new work [World Premiere] (June 14, 16). 
*Orchestras include: Atlanta, Baltimore, Boston, Chicago, Cincinnati, Cleveland, Dallas, Detroit, houston, Los Angeles, Milwaukee, Minnesota, National, New York, Philadelphia, San Diego, San Francisco, Seattle, St. Louis, and Utah.
SaveSave
SaveSave
SaveSaveSaveSaveSaveSaveSaveSaveSaveSaveSaveSaveSaveSaveSaveSave
SaveSave
SaveSave
SaveSave
SaveSave